Yutong full electric bus conquers the altitude of 5,200m
Mount Everest, the world's highest mount with the height of 8,844.43 meters is known as the "roof of the world" and "third pole of the earth". As a conservation zone that was set up to protect the core area of Mount Everest, the Mount Everest base camp is 5,200 meters above the sea level.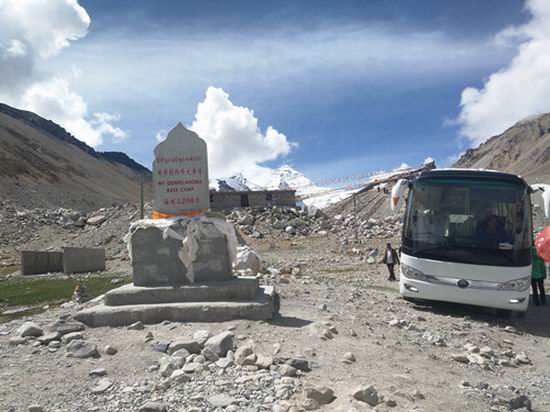 Recently, a "green carrier" appeared at the Mount Everest base camp - Yutong ZK6826 full electric bus. As a carrier in the scenic sites, it will become the guard of the plateau sky and magnificent snow-capped mountain, and meanwhile, it will also provide comfortable journey for passengers. It is learned that the vehicle has been put into operation since July 24, 2017. Up to now, it has been running in good shape, and is favored by the local the local government and visitors.
Why was the full electric bus applied on the plateau that features extreme cold climate, snow land and steep slopes? "In recent years, the Shigatse city of Tibet attaches great importance to the environmental protection. Since the Mount Everest base camp is also one of the important ecological areas, using full electric bus is to protect the fragile plateau environment," said Tashi, general manager of World Roof International Travel Agency that purchased the vehicle.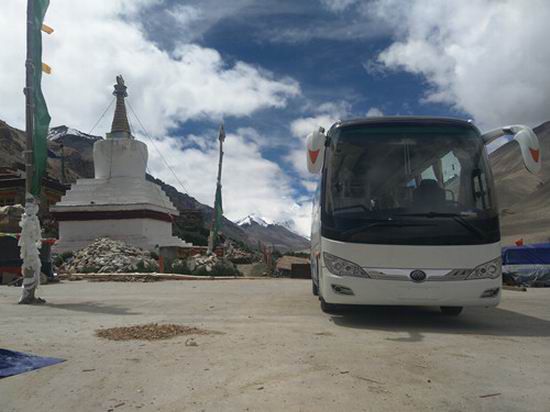 It is reported that the operation of the vehicle is smooth. The route is from hotels to the monument of Mount Everest featuring a distance of 21 kilometers, maximum gradient of 7% -8% and an altitude from 4,657 meters to 5,168 meters. Under the circumstance, the Yutong electric bus runs back and forth five times a day with a daily mileage of about 210 kilometers and it takes only one hour to be fully charged.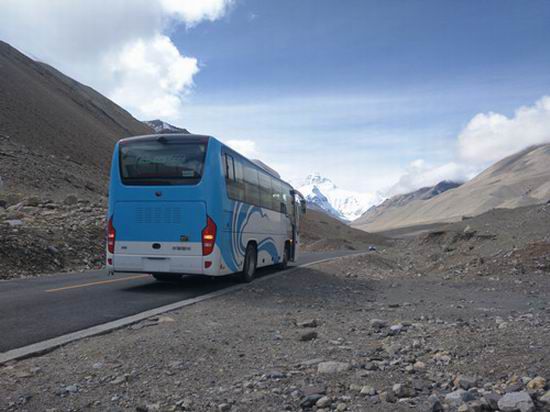 In order to meet the operational needs of the customer, Yutong technical staff went to the base camp to conduct the investigation on the operating environment and road conditions, and finally decided to make the electric bus tailored for the plateau environment. In addition, taking the high altitude anoxia into account, Yutong added on-board oxygen machine in the vehicle, thus greatly improving the ride comfort of passengers.
The successful operation of the Yutong full electric bus on the plateau injects more confidence to both Yutong and the bus industry in developing new energy buses, and will lead bus makers to go on exploring the extreme performance of vehicles.