Yutong's annual Science & Technology Award totals RMB9.5m
The commendation meeting of Yutong Science & Technology Award 2016 was held in the Yutong Industrial Park on June 20, 2017. The meeting aims to commend the R&D teams that stood out in terms of products, technologies and manufacturing processes in 2016 with a total prize high up to RMB9.51 million.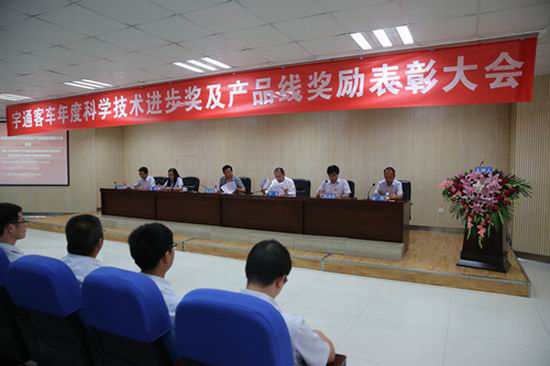 It is learned that there are totally 32 technological progress awards, covering products, technologies, manufacturing processes and so on. Among them, T7 product series and ReCtrl 3.0 coupling power system, as the key innovative research and development results, were granted the grand prize of product category and the first prize of technological progress category respectively.
As the typical representative of high-end business reception vehicles, it is the first vehicle in China's bus industry which was developed in line with the forward engineering process of passenger cars. With a total investment of over RMB400 million and multiple versions like gasoline and diesel, it has already made its appearance at a number of big events, including China's V-day parade, Prime Ministers' Meeting of SCO Member States, China's annual Two Sessions, Boao Forum for Asia, G20 Hangzhou Summit, Belt & Road Forum and Summer Davos 2017, breaking the situation that high-end business reception vehicle market were monopolized by JV brands.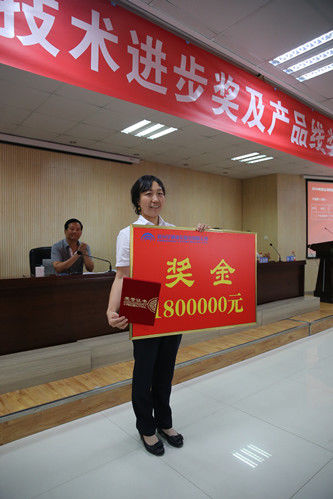 In addition to T7, a host of new energy product development projects such as Yutong E10 full electric city bus and Yutong H8 plug-in hybrid bus were granted the second prize of product category.
As the core technology of Yutong new energy products, ReCtrl system is Yutong's important achievement in the field of energy-saving technology. On January 8, 2016, the Energy-saving and New Energy Bus Key Technology Research & Development and Industrialization project won 2015 China's National Science Progress Second Award, marking that Yutong has won the nation's top level science and technology award, and ReCtrl is the core achievement of this award.
This time, the ReCtrl 3.0 has obtained the first prize of technological innovation. In addition, this technology was granted 42 patents, including 16 invention patents. Nowadays, the ReCtrl system has been upgraded to 4.0 version. In the future, along with Yutong's continuous innovation in technological area, the ReCtrl system will be further optimized, and contribute to the energy conservation and emission reduction of China's urban transport.
In addition to the technological progress awards, products awards were also granted at the meeting. Totally nine product series were awarded, among them city buses, school buses and exported products won the top prizes.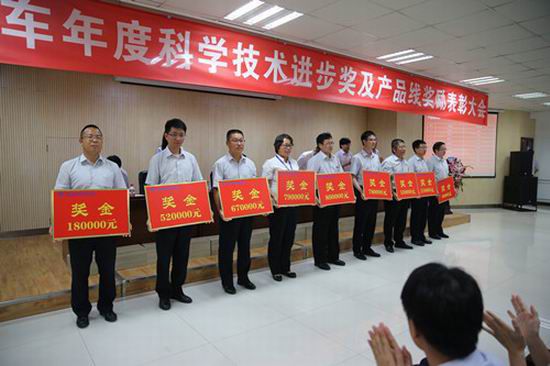 The judgement of products awards fully depends on the market results. The product development needs to adapt to the market and truly meet the needs of customers. Due to such requirements, Yutong products have gained a larger share of the market. Continuously focusing on the improvement of product competitiveness, Yutong will further emphasize the market orientation of its technological innovation.
In fact, Yutong attaches great importance to the research and development. Every year, over 3% of its annual turnover is invested in the R&D area. It is learned, the annual R&D investment reached RMB314 million in 2008 and RMB869 million in 2012. In 2016, the turnover of Yutong Bus exceeded RMB 35.8 billion, and the R&D expenditure also surpassed RMB1.25 billion, accounting for 3.5% of the annual turnover.
Yutong is keenly aware that technological innovation is fundamental to the continuous development of a company. In the future, Yutong will achieve a better market performance and create greater value for customers through the innovations and breakthroughs.